Every Friday for some time now I've been featuring some of my favorite bloggers. I'm really enjoying having guests at the blog, and more than anything I'm enjoying hearing from them that they love my readers. You all are wonderful to me and wonderful to my guests! Thank you.
Today's Featured Blogger is Delilah from Semi-Domesticated Mama. Delilah is my favorite kind of blogger. An honest one. On any given day, you can drop by her blog and read something entertaining!
She writes about her life as a mother of five. She has shared heartfelt posts about her family's journey with adoption to stories like today's post, just a look into her day-to-day.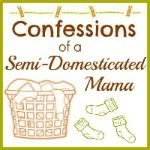 After you read today's post, please be sure to visit her blog. I know you'll be glad you found her!
Please give a warm welcome to Delilah!
I was going to chat today about the various messes that I have encountered in my 12 years as a mom. But then something happened that changed the course of my post today. Instead of telling you about the messes my kids make I'm going to tell you about the mess that I made recently. It's a literal mom mess. I have 2 words for you. Hair Trauma. Did you just shudder? Oh it gets worse.
For some reason the changing of the seasons always makes me want to inflict some kind of horrendous beauty ritual on myself. I know it's technically not the changing of the season yet but we had 4 days in a row that hit the 70′s so my brain immediately started dancing around and making beach vacation plans. Let me tell you, beauty goes wrong during the changing of the seasons. I know this. I've lived it. And yet I continue to perpetuate the horror. What is wrong with me? I swear I'm not usually a slow learner.
But alas, yesterday I found myself with scissors in hand chopping off random pieces of freshly and tragically colored hair. While drinking a glass of wine. A large glass of wine. Very large glass. Full to the top. Don't judge me. I never used to do this. Before children, I went to my hair stylist religiously. Every 6 weeks I had a trim, every 3 months I got a color and highlight. Like clockwork. I loved my stylist. I found her when I was a mere babe of 19 and fell in love with her spunk and her style. I was totally monogamous to her.
I am not a Hair Tramp.
Even when we moved a couple of hours away, I would make the trip to keep seeing my beloved hair stylist. Until she went on maternity leave. And never came back. I shed tears, I will not lie. The relationship between a hair stylist and client is special. When a woman finds a hair stylist soul mate, it's like hitting oil in the backyard. Thou shall not mess with that relationship. It should be a commandment. So she left to raise her kid, who I call Spawn because that kid has led to the ruin of my hair, and I was left to find a new hair stylist. I'm far too old to be auditioning hair stylists. I no longer have the patience or understanding when they inevitably screw up my hair. I can not suck it up and smile, telling them it's okay. Comforting them for their mistake when I'm the one who has to leave the salon looking like Dorothy Hamill. Nope. Nowadays I'm more likely to run them over with my car. And then back up and run them over again just for pure sport.
Moving on.
I've tried. I've really tried to move on. To find a new stylist. I just cannot do it. The first one totally disregarded my instructions and hacked off more than 6 inches of hair. She claimed it was all dead. As if I would walk around with 6 inches of dead hair hanging off my head like a mullet. Please. The second one had the misfortune of dealing with me during a particularly bad postpartum week. And let me just say that no woman should be allowed to make life altering decisions, such as those concerning her hair, while she is in the middle of postpartum hell. It is a recipe for disaster. Or homicide. I can't recall all the particulars of that day in the salon but I do know that it ended with her crying, covered in breast milk, and me in hysterics, also covered in breast milk and missing a chunk of hair on one side. I know that I was covered in breast milk because my boobies were leaking like rusty plumbing. I'm just not sure why she was covered in breast milk. It may have had something to do with the empty bottle I was carrying in one hand. Perhaps.
The third and final attempt happened right before our annual professional family portraits. It was not good timing, I know that. I accept partial responsibility for the added pressure that may have been placed upon the stylist but I am in no way responsible for the end result. In what language does the phrase "please just trim an inch off the bottom and add a few layers to the back" become translated into "cut it all off, shave me bald. Make me into Sinead O'Connor"? It all started with a slip of the scissors and ended in tragedy.
So you'll have to excuse me if I am a little stylist shy at this point. I haven't been back to one since that unfortunate experience. That is the back story on what led me to be standing in my bathroom holding that very large glass of wine yesterday. Cursing at the injustice of it all. While staring at my unevenly chopped, newly colored hair. I was going for long layers. What I got was somewhat reminiscent of my Seventh grade yearbook photo. It was scary back then. It's horrifying now. Thankfully, my sister is a whiz with the scissors and came over to help me. Her scream of terror when she walked in was not comforting and she has banned me from ever using a pair of scissors again. Ever. She evened me out except for that one missing patch that we won't talk about  and then added some low lights to fix the coloring disaster. The box said Iced Mocha Brown.
The box was wrong.
It looked like crayola threw up on my head. Not a good look. Especially when paired with the self hatchet job hair cut. I so wish I could tell you that I woke up this morning and it was all a nightmare. Unfortunately, I woke up today and scared the everlovin' hell out of myself when I walked past the mirror.
It was not a good morning.
And that is the story of my literal mommy mess. I guess it could be worse. I could have tried home waxing again- by the way, my eyebrows have finally grown back in- or even scarier, a home perm. I shudder.
Somewhere along the way I picked up homeschooling two boys and blogging. When I'm not scrubbing toilets or answering endless questions, I'm usually here, over sharing it all! My writing is always honest, sometimes sarcastic, and never perfect. I hope to keep my kids from seeking adult therapy. I know. Pipe dreams...You can find me as
@TheMommyMess
on Twitter and on
Facebook
.
You might like these too...