Every single time I find a mess that needs to be cleaned up around here, it's followed by the reply, "It's not my mess!" I'm sure your kids offer up a similar response. I wonder? Is there an invisible kid running around making a mess and leaving it for me? Katy from Experienced Bad Mom has motivated me to do something I've been wanting to do for long time-have a regular Friday feature here at The Mommy Mess!
I'm happy to announce the debut of…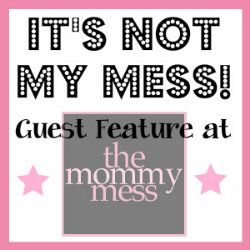 Katy from Experienced Bad Mom is coming over to share her mess with all of you! Do ya'll know Katy? She and I met through #UBP12 last spring, and we sort of hit it off right away. It didn't take long to see that both of us were writing about the *other side* of motherhood. I love me a good bad mom! Please give a warm Welcome to Katy and go check out her space on the web.
**********
 Every time I visit Adrienne's blog I get a kick out of the tagline: "Who's gonna clean all this up?" It got me thinking about my own Mommy Messes.
There are many to choose from, but here are my…
Top 5 Mommy Messes:
5. Barf. This is worse with little kids, but then again, it's always an unpleasant—and bigger—surprise with big kids. Throw in a husband with an incredible gag reflex and somehow I get to be the reigning Queen of Vomit Cleaning in our house.
4. Diaper blow-out. This always happened to me at the most inopportune time. Like when I thought 4 wipes in the diaper bag was enough to make it through the day. Or after I had already changed my baby into the 3 spare outfits in my diaper bag. (Really?! Shouldn't 3 clean outfits be enough for a trip to the mall?!)
3. Sneezes. When a toddler sneezes in your face, it is unpleasant. When a toddler sneezes in your face right after taking a bite of macaroni and cheese, though, it is downright disgusting to the nth degree!
2. Little boys/Big Boys who miss the mark. This was more common during the preschool years, but I'm telling you, I still find pee on the floor around the toilet bowl. Which reminds me: I need to ban Pokemon on the DSi during a bathroom break.
1. The unending pile of community education flyers (Karate! Tennis! Kayaking!), PTA announcements, homework assignments, permission slips, newsletters, school picture order forms, and drawings, doodles and paintings.
On second thought, I don't mind the drawings, doodles, and paintings. I think I'll cherish them.
What's your best or worst mommy mess?
Katy was called the "Experienced" Bad Mom after she had her second child. That's because everything she did wrong with her first child, she did wrong with her second child as well! She embraces her imperfections and invites you to laugh at them at ExperiencedBadMom.com. You can also find her on Twitter (@ExperBadMom) and Facebook.
**********
I'm glad I'm not cleaning up any of these messes today! I for one, hate #2. Messy toilets are my enemy.
Now go see Katy, and leave her some comment love!
The following two tabs change content below.
Adrienne is wife and homeschooling mom of two boys, one in high school and one in middle school. She's a Christ follower, runner, yoga lover, coffee guzzler and pursuer of sanity. Her family began the unexpected journey of homeschooling in 2009 and she's been hanging on for dear life ever since. Find her as
@TheMommyMess
on Twitter and connect with her on
Facebook
.
Comments
comments