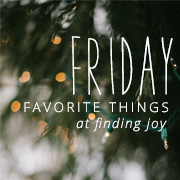 Have you visited Rachel Martin at Finding Joy yet? She has a lovely blog , and if her beautiful pictures don't bring you joy, I'm not sure what will.
After a very long week at The Mommy Mess, I think her Friday link up is the perfect way to enjoy my glass of wine Friday night. Ending my week with the positives sounds just like what the PMS doctor ordered! Thanks, to Rachel for giving me a reason to focus on what's really important. These are the things that brought me joy this week.
Things that brought me joy this week that I don't have a picture of…
~an afternoon with a dear friend.
~a much needed hug from my husband.
"Rejoice in the Lord always. I will say it again, Rejoice! Let your gentleness be evident to all. The Lord is near. Do not be anxious about anything, but in every situation, by prayer and petition, with thanksgiving, present your requests to God. And the peace of God, which transcends all understanding, will guard your hearts and your minds in Christ Jesus.  Finally, brothers and sisters, whatever is true, whatever is noble, whatever is right, whatever is pure, whatever is lovely, whatever is admirable—if anything is excellent or praiseworthy—think about such things."~Philippians 4:4-8
What brought you joy this week?
Somewhere along the way I picked up homeschooling two boys and blogging. When I'm not scrubbing toilets or answering endless questions, I'm usually here, over sharing it all! My writing is always honest, sometimes sarcastic, and never perfect. I hope to keep my kids from seeking adult therapy. I know. Pipe dreams...You can find me as
@TheMommyMess
on Twitter and on
Facebook
.
You might like these too...