Are you a naturally organized person or do you have to work at it?
I have to work at it.
Planning and organization is something I'd like to be better at this year. I wish there was some kind of magic dust for this sort of thing, but I have to rely on the ideas and resources from other naturally organized people. That's why I was thrilled last year when I won The Ultimate Homeschool Planner from Hip Homeschool Moms and Apologia. I tucked the planner away, knowing I would want to use it fresh this year.
I couldn't wait to get it out of the closet and see how I would use Debra Bell's system. What I love most about the planner is the ability to manage multiple students with only one planner. The pages come blank, so you are able to tailor the columns and rows to fit your needs. I use the boxes across the top for the days of the week and the boxes down the left side for the subject. Then, inside each box is a brief description of the lessons for each child. One child is  blue, the other is red.
The planner has sections for mapping out your year at a glance, listing character and academic goals, and lots more! So far this thing has been my best friend, and it's helped me stay on track during the day. It's becoming my one stop shopping for lists, notes, and misc. important info. It's not just for lessons! I guess that's why they call it The "Ultimate" Homeschool Planner, because it really is!
The Mom's planner is designed to go with either the teen planner or the student planner.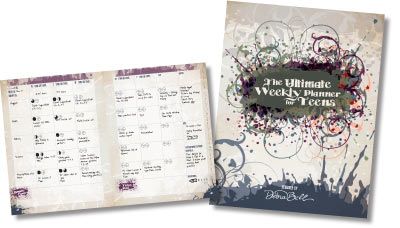 When I contacted Aplogia about #BTSBash, they were so gracious! Apologia wants to give one of you The Ultimate Homeschool Planner AND your choice of either the student planner or teen planner.
(That's a $50 value!)
So, be sure to link up those #BTSBash posts HERE and enter to win below!
Be sure to check out the other prizes up for grabs! 
The Ultimate Homeschool Planner
Mabel's Labels Ultimate Back-to-School Combo Pack
Custom cards from Creative Kristi Designs
$40 Erie Drive Gift Certificate
Explorer Backpack from Company Kids
Zazoo Kids Digital Photo Clock ($89 value)
 $30 Jewelry Gift Certificate from Guy & Eva 
One month subscription to MOMables
The following two tabs change content below.
Adrienne is wife and homeschooling mom of two boys, one in high school and one in middle school. She's a Christ follower, runner, yoga lover, coffee guzzler and pursuer of sanity. Her family began the unexpected journey of homeschooling in 2009 and she's been hanging on for dear life ever since. Find her as
@TheMommyMess
on Twitter and connect with her on
Facebook
.
Comments
comments