Have you heard? #BTSBash begins this coming Monday, August 20th!!
You do not want to miss this event!
Get your Back-to-School posts ready and mark your calendars!
To learn more about what you need to do to win some fabulous prizes visit the #BTSBash announcement post!
**************************************************************************************************************
Today, I have the opportunity to guest post for one of my favorite blogs.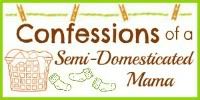 Delilah from Semi-Domesticated Mama asked me to share a post for her summer series, "Letter to my Teenage Self". Yikes!
My first thought? How the heck will I fit that into one post? Because the girl I knew 15 years ago was pretty lost…
But, I decided to give it try. If you are not familiar with Delilah, you're missing out. She's got a great blog and I love reading her stories about all the crazy people she runs into! Please head over to her place and read my guest post. A letter to my teenage self. See you there!
Somewhere along the way I picked up homeschooling two boys and blogging. When I'm not scrubbing toilets or answering endless questions, I'm usually here, over sharing it all! My writing is always honest, sometimes sarcastic, and never perfect. I hope to keep my kids from seeking adult therapy. I know. Pipe dreams...You can find me as
@TheMommyMess
on Twitter and on
Facebook
.
You might like these too...