I know you're still here.
You're quick.
Quiet.
But, I'm not blind. I see you.
You've learned some tricks, but I'm not fooled.
I see you when my son walks from room to room adjusting the blinds.Twirling the rod from left to right. Right to left. Back again. He must find the perfect glimmer of light to peek through those cracks. It's impossible, but you urge him on anyway. How dare you!
I see you when he uses his feet to pick up a pile of dirty laundry from his bathroom floor.
I see you in the way he methodically washes his hands. You're less persistent, but he still answers your call.
I see you in the exhausting order in which he does things.
I see you in the fear that floods his eyes when he drops something on the floor he knows you will not let him pick up.
Sometimes I hear you in the frustrated tears of his little brother, who cannot understand you.
Why won't he share that with me? I share everything with him…
I'm pissed, because there is no right answer.
You're good. I'll give you that.
I won't lie. There are days you trick me too.
He's learned to hide you from me.
He knows what I want to see, and he tries to give it to me.
Some days I pretend not to notice, and I remember to offer my son the grace he deserves for the prison you have him in.
But, other days I get angry. My failed attempts to discipline you are evident on the innocent face of my son. Now you have me too, damn it! You make me feel guilty and hopeless. You have no right!
He pays the price.
He takes the blame.
It's not fair.
I'm thankful that you've been tamed. Trained.
I'm grateful for his progress, but I want you gone!
I want absolute freedom for my son.
I can still hear you behind his questions.
Did anyone touch this?
Who moved this?
Did you wash your hands?
Sometimes I hear your whisper masked by his polite phrase.
No, thank you. 
You still  lie to him.
He tries to ignore you, but he doesn't  always win.
I'm not fooled.
I know you're still here, you son of a bitch.
*********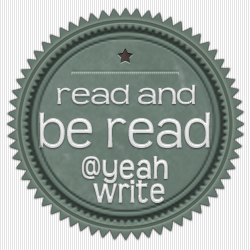 Somewhere along the way I picked up homeschooling two boys and blogging. When I'm not scrubbing toilets or answering endless questions, I'm usually here, over sharing it all! My writing is always honest, sometimes sarcastic, and never perfect. I hope to keep my kids from seeking adult therapy. I know. Pipe dreams...You can find me as
@TheMommyMess
on Twitter and on
Facebook
.
You might like these too...