One of the hardest things about having a child with special needs is balancing the attention I give to his sibling. I find myself feeling extremely guilty that most of my time is sucked dry on only one of my children. My youngest is only 6 years old, and he's still at the age I wish I could freeze. The last thing I want to happen is miss out on these precious years. I'm distracted. He gets a fraction of my attention, and it's not his fault.
If I'm honest with myself, I can even admit that I am struggling with some resentment toward my oldest because of it, and that's not his fault. They are both innocent in all of this, and I have to find a way to bring joy into the home everyday-no matter what! For both of them.
I've spent the last two weeks on the phone trying to schedule appointments, line up occupational therapy, find the right team of professionals to work with. Because the move has been so traumatic for my oldest it's recommended that he takes an anti-depressant for 3-6 months to get through this transition period. I totally agree with this which says a lot about his behavior. I'm not usually one to go with medication unless it's absolutely needed, and I believe it is. His anxiety is very high, and it's manifesting itself in some very disturbing behaviors. He's washed his hands so much in the past few weeks that they are literally rubbed raw, and a completely different color from his arms. So now we have to find a psychiatrist to work with in order to get a prescription for him…more calls…
I'm fine with the task at hand. His is my son, and I will do anything to get him the help that he needs to live a good life! I'm not complaining about the task at all. He needs me! I will be there! I can do all things through Christ who gives me strength! In my heart I know this. I believe it.
But, I'm tired, and it's only the beginning of a long journey. That can't be good?!
I wish I had more time. My little one is on the sidelines, and I hate it!
I already see that my youngest is affected by the situation. He's such a lover. He doesn't argue, or back talk. Yeah, I know he's only 6, but he is naturally soft-hearted. Being in the room when my oldest is having a meltdown would be hard for anyone. It's especially hard for his brother, who loves him very much. Who doesn't really understand why all of this is going on. He often covers his ears, and looks visably scared. What is all of this doing to him? How can I protect him?
The other day, I had reached my limit. I just sat with my head in my hands and cried. Right in front of him. He just patted me on the back and said, "Mom, it's not your fault, you're a good mom."
What 6 year old should have to tell their mom that? It's not his job to console me. Even so, it did. I hugged him and said, "Thank you, baby. Thank you."
In the end I have to believe that each child has their seasons. Right now, my oldest needs the majority of my attention. Won't there come a time when it's the other way around? I have to tell myself that these challenges are opportunities to build our family stronger than ever. They are opportunities to teach my boys how to handle the hard stuff. Each day I have the chance to show my boys how to rely on God, how to keep faith in tough times. I have the chance to show them to stick together! To love each other, no matter what. I need to view these times as the opportunities they are.
I hope if I can do that. I've done my job.
This post is linked at Things I Can't Say for good dose of Pouring My Heart Out.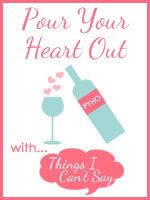 Somewhere along the way I picked up homeschooling two boys and blogging. When I'm not scrubbing toilets or answering endless questions, I'm usually here, over sharing it all! My writing is always honest, sometimes sarcastic, and never perfect. I hope to keep my kids from seeking adult therapy. I know. Pipe dreams...You can find me as
@TheMommyMess
on Twitter and on
Facebook
.
You might like these too...