Day 17: Love promotes intimacy
THE DARE:
"Determine to guard your mate's secrets (unless they are dangerous to them or to you) and to pray for them. Talk with your spouse, and resolve to demonstrate love in spite of these issues. Really listen to them when they share personal thoughts and struggles with you. make them feel safe."
So, this day wasn't that monumental for me. It spoke about being a safe haven for your spouse in spite of your past or secrets. I would have to say we score high on the marriage scale on this one. Woo hoo!
There's plenty to know about each of us, and we both know all there is to know about each other! Probably too much. LOL We were friends before we were anything else, and by that point in the realtionship he knew it all. Good and bad about me, and vice versa.
I wouldn't have it any other way. I feel safe in his knowledge of my past, and I feel confident that he would say the same. I think that in itself is intimate.
Day 18: Love seeks to understand
The Dare:
"Prepare a nice dinner at home, just for the two of you. the dinner can be as nice as you prefer. Focus this time on getting to know your spouse better, perhaps in areas you've rarely talked about. Determine to make it an enjoyable evening for you and your mate."
This day's reading was interesting. It spoke of how we should never stop studying our spouse. Seeking to fully understand them at all times. Claiming that many of our differences are because we simply do not understand each other. I'd have to agree.
"Consider the following perspective: if the amount you studied your spouse before marriage were equal to a high school diploma, then you should continue to learn…until you gain a college degree, a master's degree, and ultimately a doctorate degree. Think of it as a lifelong journey that draws you ever closer to your mate."
I liked this analogy. I'm a student at heart, and thinking about it this way really hit home. How much time do I spend truly spend getting to know my husband?
I think about all the ways I've changed (opinions, thoughts, perspective, beliefs, motivations, goals, etc.) since we've been on this journey of life and marriage together. Surely he has changed in many ways too.
Do I really know him and understand him?
This dare is one I can't just do on a whim. I had to plan something when the boys would be away. This Saturday night the boys will be at my in laws spending the night, and we'll have the night to ourselves. I have some ideas to make the evening really special. I'm kind of excited about this one! I will keep you posted (no pun intended).

***Read more about my Love Dare journey by clicking on the label at the bottom of this post.
Take the Dare!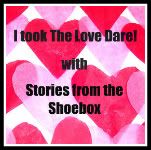 Somewhere along the way I picked up homeschooling two boys and blogging. When I'm not scrubbing toilets or answering endless questions, I'm usually here, over sharing it all! My writing is always honest, sometimes sarcastic, and never perfect. I hope to keep my kids from seeking adult therapy. I know. Pipe dreams...You can find me as
@TheMommyMess
on Twitter and on
Facebook
.
You might like these too...